Why Your Home Needs A Piano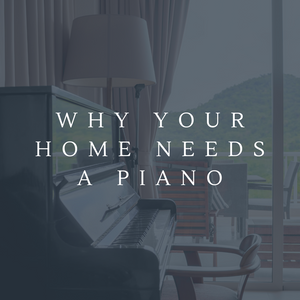 Why Your Home Needs A Piano 
Pianos are not only musical instruments, but also artistic and elegant pieces of furniture that can elevate your home in many ways. Here are some of the benefits of having a piano in your home:
Pianos can create a focal point in any room, adding a touch of sophistication and style. They can also complement the existing decor and furniture, creating a harmonious and inviting atmosphere. For example, you can place a piano in your formal living room, your foyer, or your dining room to make a statement and impress your guests. 

Pianos can also inspire creativity and learning in your home. Playing the piano can improve your cognitive skills, memory, concentration, and mood. It can also reduce stress and anxiety and provide a relaxing and enjoyable hobby. If you have children, having a piano in your home can encourage them to learn music and develop their musical talents.

Pianos can also bring joy and entertainment to your home. You can play your favorite songs, compose your own music, or perform for your family and friends. You can also host musical events, such as recitals, concerts, or parties, and share your passion for music with others. Having a piano in your home can create a lively and fun atmosphere that everyone can enjoy.
However, not all places in your home are suitable for a piano. You should avoid placing your piano near windows, air vents, fireplaces, radiators, or kitchens, as these can expose your piano to extreme temperatures, humidity, sunlight, dust, or grease. These factors can damage your piano's soundboard, strings, action parts, keys, and finish, affecting its performance and appearance. 
The best place for a piano in your home is one that is stable, comfortable, and spacious. You should look for a place that has consistent temperature and humidity levels. You should also look for a place that has enough natural or artificial light, but not direct sunlight. You should also make sure that there is enough space around the piano for you to move comfortably and access all the keys. Ideally, you should place your piano on an interior wall or corner, away from any sources of heat, cold, moisture, or dirt.
Having a piano in your home can be a wonderful addition to your lifestyle and environment. However, you should also take good care of your piano by choosing the right place for it in your home. By doing so, you can ensure that your piano will last longer and sound better. You can also enjoy playing and listening to your piano more fully and frequently.