Who are the best classical pianists of all time?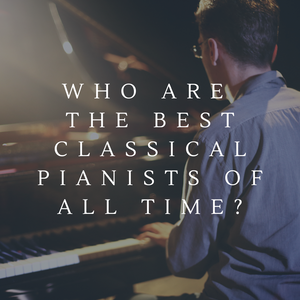 Classical piano music is one of the most beautiful and expressive forms of art, and it has been enjoyed by millions of people for centuries. But who are the best classical pianists of all time? This is a question that has no definitive answer, as different pianists have different styles, personalities, and influences. However, these are some of the most talented, famous, and influential piano players in history, based on their compositions, performances, recordings, and legacy.
To compile this list, we consulted various sources, such as Classic FM, Classical Music, uDiscoverMusic, Ranker, and Ranker Music, which have conducted surveys or polls among experts, critics, or fans to name the best pianists ever. We also considered the opinions of some of today's leading concert pianists, who have shared their admiration and inspiration for their predecessors. Here are some of the names that appeared most frequently and consistently in these sources:
Leif Ove Andsnes
Leif Ove Andsnes is a brilliant Norwegian pianist who has made a name for himself as one of the greatest musicians working today. He is especially known for his recordings of Beethoven's Piano Concertos with The Mahler Chamber Orchestra, which were praised as "an extraordinary achievement" by Gramophone magazine. He has also performed and recorded works by Mozart, Schubert, Chopin, Grieg, Rachmaninov, Bartók, and many others. He is admired for his expressive and elegant playing, as well as his versatility and adventurousness.
Martha Argerich
Martha Argerich is an Argentinian pianist who is widely regarded as one of the greatest living pianists. She rose to fame in 1964 when she won the International Chopin Piano Competition at the age of 24. Since then, she has dazzled audiences and critics with her virtuosic and passionate performances of a wide range of repertoire, from Bach and Beethoven to Prokofiev and Messiaen. She is also known for her collaborations with other musicians, such as violinist Gidon Kremer, cellist Mischa Maisky, and conductor Claudio Abbado.
Claudio Arrau
Claudio Arrau was a Chilean pianist who was considered one of the most profound and complete musicians of the 20th century. He started his career as a child prodigy, and later studied with Martin Krause, a pupil of Liszt. He developed a transcendental technique and a deep understanding of the music he played, especially Beethoven and Schubert. He was also renowned for his interpretations of Liszt, Chopin, Brahms, Debussy, and many others. He had a unique sound that was warm and rich, and a style that was noble and expressive.
Vladimir Ashkenazy
Vladimir Ashkenazy is a Russian-born pianist and conductor who is one of the most respected and prolific artists of his generation. He won the International Tchaikovsky Competition in 1962 (jointly with John Ogdon) and later moved to London. He has recorded extensively for Decca Records, covering almost the entire piano literature from Bach to Shostakovich. He is particularly admired for his recordings of Rachmaninov and Chopin, as well as his collaborations with violinist Itzhak Perlman and cellist Lynn Harrell. He is also an acclaimed conductor who has led orchestras such as the Philharmonia Orchestra and the Sydney Symphony Orchestra.
Daniel Barenboim
Daniel Barenboim is an Israeli-Argentinian pianist and conductor who is one of the most influential musical figures of our time. He started his piano career at a young age, performing with legendary conductors such as Wilhelm Furtwängler and Sir John Barbirolli. He has recorded extensively as a soloist and chamber musician, playing works by Mozart, Beethoven, Schubert, Schumann, Brahms, Liszt, Chopin, Debussy, Ravel, Bartók, Boulez, and more. He is also a renowned conductor who has led orchestras such as the Berlin Philharmonic Orchestra and the Chicago Symphony Orchestra. He is also the founder of the West-Eastern Divan Orchestra, which brings together young musicians from Israel and Arab countries to promote peace and dialogue through music.
These are just some of the best classical pianists of all time. There are many more names that deserve to be mentioned in this list, such as Ludwig van Beethoven, Frédéric Chopin, Glenn Gould, Arthur Rubinstein, Sergei Rachmaninov, Vladimir Horowitz, Maurizio Pollini, Sviatoslav Richter, Emil Gilels, Alfred Brendel, Mitsuko Uchida, Lang Lang, Yuja Wang, and Benjamin Grosvenor, among others. Each of them has contributed to the history and development of piano music in their own way, and has inspired countless listeners and performers with their artistry and mastery. 
Who do you think are the greatest classical Pianists of all time?