Using your used piano to purchase your new piano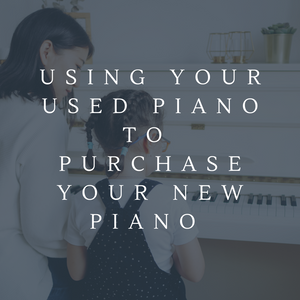 If you already own an acoustic grand or upright piano, but you have your eye on a shiny new one, there may be opportunities for you to use your existing piano to purchase the piano of your dreams.
Some people find a private buyer to take their old piano off their hands and use the cash from that sale towards their next piano. However, it can be difficult to find a buyer who will pay you for your piano's full value. Some people even sell their pianos directly to a piano store if they're in good condition.
You can also discuss selling your piano through a piano store through consignment. With this agreement, the piano store does all the legwork to sell your current piano to a buyer, then you can use the funds towards your dream piano. This can be preferable to trying to sell your piano yourself through craigslist or Facebook marketplace where fraud is prevalent.  
The quickest & easiest way to leverage your old piano towards your new one is through a trade-up. Many piano stores offer a trade-up program. Similar to trading in your old car towards the purchase of a new car, this program allows you to trade in your piano for credit toward your next piano purchase.
Many trade-up programs also work alongside a lender, so you not only apply your credit to bring down the purchase price, but you can also finance the remaining balance for reasonable monthly payments.   
Visit us today to chat with our sales team about what option might work best for you to take home the piano of your dreams.