The Joys of Owning a Piano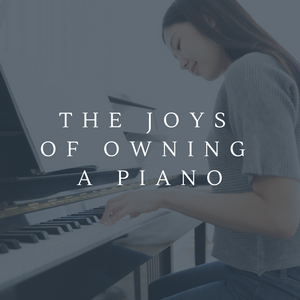 The Joys of Owning a Piano
Pianos are one of the most versatile and beautiful musical instruments in the world. They can produce a wide range of sounds, from soft and soothing to loud and dramatic. They can also play different styles of music, from classical to jazz to pop. But did you know that owning a piano can also benefit you in many ways? Here are some reasons why you should own a piano.
Pianos can improve your mental and physical health
Playing the piano can stimulate your brain and enhance your cognitive skills. Studies have shown that piano players have better memory, attention, creativity, and problem-solving abilities than non-players. Playing the piano can also reduce stress, anxiety, and depression, as it can release endorphins and calm your nervous system.
Playing the piano can also improve your physical health. It can strengthen your hand-eye coordination, finger agility, and posture. It can also prevent or delay the onset of age-related diseases such as arthritis and dementia, as it can keep your joints and brain active.
Pianos can enrich your social and cultural life
Owning a piano can open up many opportunities for social and cultural interactions. You can play for your family and friends, or join a piano club or community. You can also attend concerts, recitals, festivals, and competitions that feature piano music. You can learn from other pianists, share your passion, and make new friends.
Owning a piano can also expose you to different cultures and histories. Pianos have been around for centuries, and they have been used by many composers, musicians, and artists from different countries and eras. You can explore the rich and diverse repertoire of piano music, from Bach to Beethoven to Billy Joel. You can also appreciate the beauty and craftsmanship of different types of pianos, from grand to upright to digital.
Pianos can express your personality and creativity
Owning a piano can allow you to express yourself in unique and creative ways. You can choose a piano that suits your taste, style, and budget. You can also customize your piano with accessories, decorations, or modifications. You can make your piano a part of your home decor, or a focal point of your personal space.
Owning a piano can also enable you to create your own music. You can improvise, compose, or arrange songs on the piano. You can experiment with different sounds, techniques, and genres. You can also record, share, or perform your music with others. You can make your piano a source of joy, inspiration, and satisfaction.