Preparing Your Home for Your New Grand Piano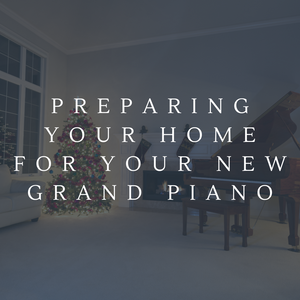 Welcoming a new grand piano into your home can be an exciting time. You've measured out the space, you've purchased your dream piano, you've arranged delivery, and now it's time to prepare your home for the arrival of your new grand piano.  
We want to make sure you can start enjoying your new piano as soon as possible. Being prepared for your grand piano's delivery can prevent any delays, so you can focus on the fun part; setting up the space around your gorgeous new piano.
You may want to ask yourself the following questions:
How is the insulation of your home? If you live in certain climates on either end of the more extreme weather conditions, or in an older home, you may need to avoid placing your piano too close to an exterior wall in consideration of temperature fluctuation.  
Will the piano be placed directly on hardwood or laminate floors? If so, you may want to consider getting an area rug for the space or floor protectors to protect your flooring.
Will the piano movers be able to maneuver the piano into your home without any obstacles? We only use the best piano movers in the area. To help our piano movers, clearing a path through your home can make the process go smoothly.  
If you have any questions about your space and what you may need in preparation for your piano, please feel free to ask our team of experts!