Practice Makes Perfect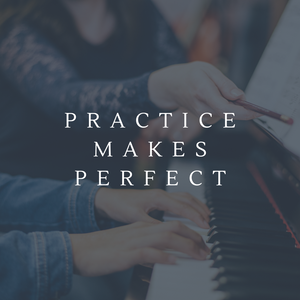 Just like most things, becoming a great pianist takes lots and lots of practice.
Making daily practice a part of your routine can help you achieve your musical goals.
Set aside time every day for practice
It doesn't matter if it's 10 minutes or two hours, setting aside time every single day for practice helps set yourself up for success. Figure out a time of day that works with your schedule to practice. Some people practice more easily in the morning, and some prefer to practice right before bed so they sleep more soundly. Try a few different times to see what fits into your routine the best.
Find a time that works best for you, and stick with it.
Break the music up into pieces
Starting at the beginning of a song and working your way through it isn't always the best place to start. Look through a piece and determine the most difficult part. When you work through the hard part first, you can feel confident when you arrive at that section when you do play a song from start to finish.
Start slowly
You've selected a piece to play, you've listened to a professional recording of the song, and you're ready to get started.
You see the tempo marked as Allegro, and you try to dive in with the fast, lively tempo your first try only to stumble over notes and feel discouraged.
When you start slowly, hitting notes intentionally, you can gain confidence each time you play and increase tempo as you go.  
Listen to the song
Listening to the song you're working on when you're not in front of the piano can help your practice. Listening to the tempo and the musicality of the piece performed by a professional can help you determine how to play it.
After you've developed the muscle memory of the song, practicing your figure movements on a table or your lap can help your play more accurately on the keyboard.  
Pick a song you enjoy
If you select a song for your practice that you truly enjoy, you're more likely to stick with it. If you're taking lessons from a piano teacher, discuss with them song options for practice. They will want you to feel engaged in your song, and will likely help you find a piece that lights you up.