PIANO FINANCING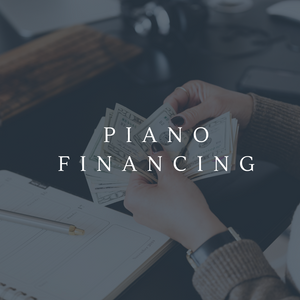 So, you've just found the perfect piano that fits all your needs. The one that talks to you when you sit down to play it and would be absolutely perfect in your home.
Unfortunately, sometimes you find that perfect instrument and it just doesn't fit in your current budget to purchase it outright.
Don't fret, we have options for you. We offer financing through reputable financing companies. We work closely with you to figure out the right amount to finance. Whether it be long term, short term, or very short term this is available to you if you have a good credit score.
Whether it's a year or two financing on an upright or a ten-year option on a concert grand it's there for you to use to get your dream instrument. 
Sometimes we are even able to offer special promotions, some of which you can take advantage of interest-free terms from six months to two full years. Do not be afraid to ask your sales consultant if one of those programs is available, you might be pleasantly surprised, doesn't hurt to ask!
In any case, financing all, or a portion of the price to be able to buy immediately will allow you to take advantage of a sale price or upgrade to the piano that you really want now rather than later. 
A winning position for you.