Omega Sauter 220 - Customer Success Story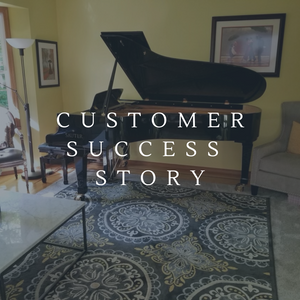 We love seeing our happy customers enjoying their new pianos at home!
"I now have a Sauter 220 !
With plenty of parking and a showroom featuring 100 both new and used pianos - you should be able to find whatever you are looking for here.
With 25 years as a full-time professional in the piano Tech field, I came with very specific piano requirements. I did try their Faziolis, Bosendorfers and Petrof grands - but my preferences were best matched with a fantastic 7'3 Sauter (Omega).
My loving wife worked behind the scenes with Cheri (store manager) and even Basilios the owner, to secure this piano and its delivery unbeknownst to me. A complete surprise to find it sitting in my living room!
Quality European pianos along with a large selection of Yamahas. Bring some music, sit and play their variety of pianos until you find yours. Visit on a Monday and meet their world class Technician!" - Joel W.