Hailun Pianos: A Rising Star in the Piano Industry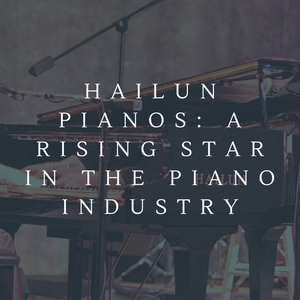 If you are looking for a high-quality piano that combines the best of Eastern and Western craftsmanship, you might want to consider Hailun pianos. Hailun is an independently owned Chinese piano manufacturer that has been creating affordable excellence in the piano business for over 20 years. 
The History of Hailun Pianos
Hailun pianos are the result of a love story between Mr. and Mrs. Hailun Chen, who met at the Piano Technology School in Beijing in the 1980s. They fell in love with not only the piano but with each other, and decided to start their own piano business in 1986. They began by producing piano parts and components for other brands, and gradually expanded their production capacity and expertise. In 1995, they established their own brand, Hailun Piano Co., Ltd., and began to produce their own pianos.
Hailun pianos are not just made in China, but also influenced by European and American piano technology and design. Over the years, Hailun has collaborated with many renowned piano experts from around the world, such as George Emerson, Zlatkovic Sibin, Ema Shigeru, Stephen Paulello, and Frank Emerson. They have also hired Mr. Veletzky, a piano builder from Vienna, as their chief engineer and quality supervisor. These international partnerships have helped Hailun to improve their quality standards and innovation capabilities.
The Features of Hailun Pianos
Hailun pianos are known for their excellent sound quality, durability, and aesthetics. They offer a wide range of models, from upright pianos to grand pianos, to suit different needs and preferences. Some of the features that make Hailun pianos stand out are:
Hybrid Performance Pianos

: These are pianos that combine acoustic and digital elements to create a versatile and expressive musical experience. Hailun's hybrid performance pianos use advanced sensors and software to enhance the touch, tone, and tuning of the piano. They also allow the player to access different sounds, effects, and recording functions through a touchscreen interface.

My Size Keys

: These are pianos that have smaller keys than standard pianos, designed for children or people with smaller hands. Hailun's my size keys pianos aim to make piano playing more comfortable and enjoyable for beginners and learners. They also have a patented mechanism that allows the keys to be adjusted to normal size as the player grows or progresses.

Award-Winning Innovations

: Hailun pianos have won many prestigious awards and recognitions for their quality and innovation. Some of these include the MMR Acoustic Piano Line of the Year Award (2008, 2012, 2014), the MMR Legacy Award (2016), the Music Trades Magazine Fastest Growing Company Award (2009-2013), and the NAMM Best in Show Award (2010).
The Benefits of Hailun Pianos
Hailun pianos are not only well-made and well-designed, but also well-priced. Compared to other brands of similar quality and features, Hailun pianos are more affordable and accessible. This is because Hailun has a cost advantage due to its efficient production system. However, this does not mean that Hailun compromises on quality or service. On the contrary, Hailun offers a lifetime warranty on all its pianos, as well as free tuning and maintenance services for the first year. 
Hailun pianos are perfect for anyone who wants to enjoy a superb piano at an incredibly reasonable price. Whether you are a beginner or a professional, a student or a teacher, a hobbyist or a performer, you can find a Hailun piano that suits your needs and expectations