FAZIOLI Pianos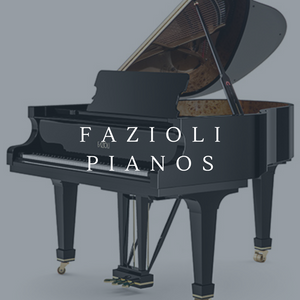 Fazioli pianos are rare because they are produced in very limited numbers, compared to other piano brands. Fazioli pianos only produce about 140 pianos a year, using the best materials and techniques. The company was founded in 1981 by Paolo Fazioli, who wanted to create the finest grand pianos possible. 
He and his team of craftsmen build each piano by hand, with great attention to detail and quality. Each piano can take up to two years to complete. Fazioli pianos also offer six different models of different lengths, as well as custom designs and art cases. Because of their rarity, quality and variety, Fazioli pianos are highly sought after by pianists and collectors around the world.
Luca Fazioli is the son of Paolo Fazioli, the founder of Fazioli pianos. He is involved in the production and promotion of the pianos, and sometimes visits colleges that have Fazioli pianos. For example, he visited Lewis & Clark College in Portland, OR in June 2022 to inspect their Fazioli piano. He also visited Northwest Pianos in Bellevue, WA during that time. You can watch his full interview at Northwest Pianos here to learn more about the company. 
Fazioli pianos are known for their quality and are used by many prestigious institutions around the world, including universities such as 
Paolo Fazioli is the founder of Fazioli pianos, and he is also an engineer, pianist and composer. He was born in Rome in 1944, into a family of furniture makers. He studied mechanical engineering at Sapienza University, piano at the G. Rossini Conservatory in Pesaro, and music composition at the Academy of St. Cecilia. 
He joined his family's furniture business, but he also had a passion for building the finest grand pianos possible. He started designing and building pianos in 1978, with the help of some experts in musical acoustics and wood technology. 
He founded Fazioli Pianoforti in 1981, and exhibited his first four models at the Musikmesse Frankfurt in 1982. Since then, he has been producing about 140 handcrafted pianos a year, using the best materials and techniques. He has also collaborated with famous pianists such as Herbie Hancock, who praised his pianos for their elegance and richness of sound. Paolo Fazioli is considered one of the most innovative and respected piano makers in the world.
Some of the most famous musicians who use Fazioli pianos are:
Visit us to learn more about what makes Fazioli pianos so incredible!