FAZIOLI: FROM THE DREAM TO THE SOUND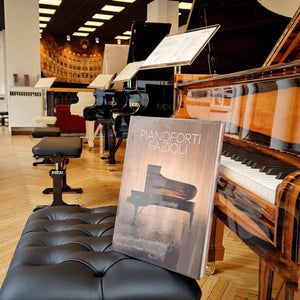 FAZIOLI GRAND PIANOS
From the Dream to the Sound 
Rizzoli books
English edition: available from October 2021
Italian edition: available in-store and online from June 8th, 2021
[ 192 pp. – 70,00 € ]
Preface: Herbie Hancock
Texts: Sandro Cappelletto
From Tuesday 8 June, the new book by Rizzoli dedicated to the FAZIOLI history will be on sale at Italian bookstores. The international edition in English will be available starting from October 2021.
The book, edited by Sandro Cappelletto, reconstructs the story of Paolo Fazioli who, moved by unwavering passion and determination, realized his dream of building pianos.
The fascinating journey, interwoven with anecdotes and stories, encounters and precious memories, is accompanied by countless images and enriched by the vivid contributions of artist friends.
The Fazioli piano factory was founded in Sacile, in places where working with wood is a prestigious tradition. In a corner at the family furniture factory, the famous brand MIM -which boasts among its designers great Italians such as Fontana, Mendini, Munari, Gregotti, Scarpa, Zanuso- Paolo Fazioli, the youngest of six brothers, starts his business.
As a child, in Rome, he began to study the piano. He is a curious kid with clear ideas: he will also become an engineer. The ambivalence of his interests leads him, still very young, to dismantle his first instrument, an old upright piano guilty of having a "caged" sound.
Paolo continues to study: he graduated from the Pesaro Conservatory and graduated in engineering. He never ceases to nourish his passion for the piano listening to the greatest pianists in Santa Cecilia: Rubinstein, Backhaus, Kempff. Then the meeting, in Turin, with Pietro Righini, musician and scholar of the physics of sound and Guglielmo Giordano, wood technologist, founder of the National Institute of Wood at the CNR. In Milan, where he gets to befriend pianist Riccardo Risaliti, Fazioli meets an expert and passionate craftsman, Lino Tiveron, who follows him joined by his son Pierluigi. With these excellent travel companions, Fazioli produced in Sacile his first models. 
Today, with the logo designed by Giulio Confalonieri and their soundboards made of red spruce, Fazioli pianos are all over the world.
In the book you can find the testimonies of great pianists, the words of composer Nicola Piovani, the conversations of Cappelletto with Angela Hewitt and Maurizio Baglini. Moreover, it's the idea of the dream coming true that shines through every line of the story: from that first strip of plywood on which a ten-year-old Paolo Fazioli drew the black and white keys, to begin exercising his fingers and his imagination...