Buying a Used Steinway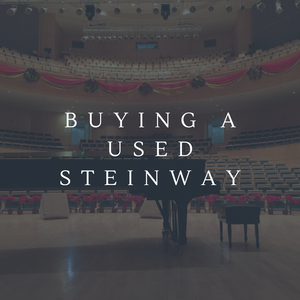 There seems to be quite a few used Steinway pianos available both in store and online these days.
Many people are asking if these used Steinway products are a good value, the answer is both yes, and no. With many variables in play.
As with any used piano, there are many things that determine its true value as an instrument, and Steinway is no different.
A good, recognizable name is just a start. With no guarantees the instrument you are looking at is a good buy or worth the listed price.
Many pre-owned instruments, especially Steinways, tend to be more expensive. Consider looking into the pitfalls of purchasing any used instruments to learn what can be wrong or could go wrong in the future in these cases. 
There are certain things that (if you are aware of) can make a selection easier:
Keeping in mind, these just touch the surface.
Never buy a piano you haven't played
Know the seller and get a warranty
Don't be fooled by a cosmetic rebuild (appearance only)
Ask about inherent model year flaws ( Teflon bushings etc.)
Look for excessive wear and tear in areas not readily seen
Good luck on your quest for that perfect Steinway piano! It helps to buy from an established local reputable dealer with many five-star reviews known for their quality pre-owned instruments and service.
Let our highly knowledgeable staff help you find the right piano for your needs.